Best tracker mortgages
Is a tracker mortgage a good idea now? Find out and compare tracker mortgage rates.
Lower interest rates
Some tracker mortgage interest rates are currently lower than fixed or standard variable mortgages.
Flexibility with lower ERCs
Tracker mortgages often have cheaper early repayment charges, or sometimes none at all.
If the base rate drops...
...so does your mortgage rate. Meaning you'll pay less.
Compare tracker mortgages
Find a mortgage that suits you
Tell us what you're looking for and we'll search 12,000 deals from 90 lenders.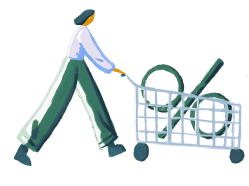 Is a tracker mortgage a good idea now? (and other FAQs)
A tracker mortgage can be a more flexible mortgage option for anyone who doesn't want to be tied into a rate for a set time.
Tracker mortgages are most popular when interest rates are low or falling lower. 
The Bank of England base rate has been steadily increasing since December 2021, which means tracker interest rates have also been on the rise.
Despite this,  some tracker rates are currently lower than variable and fixed rates. Test out our comparison tool and see for yourself.
Both tracker and fixed-rate mortgages are popular choices for home buyers, but they are very different.
Interest rates: The biggest difference between a tracker and fixed-rate mortgages is the way the interest works. 
Fixed rates are set and stay the for the whole mortgage term, whereas a tracker changes depending on the base rate. 
Different introductory rates: Tracker mortgage introductory rates tend to be cheaper than those for fixed-rate mortgages because fixed rates offer more security. 
Early repayment charges (ERCs):  Tracker mortgages often have lower or even no Early Repayment Charges (ERCs), which gives you better flexibility if you want to change deals. Fixed-rate ERCs tend to be quite expensive.
You should shop around to see what deals are available which are suited to your needs. A mortgage broker will be well equipped to help do this, as they have access to deals from all kinds of lenders.
What people are saying about Better.co.uk...
Get a mortgage with Better.co.uk today
Our remortgage customers saved an average of £290 a month in August 2023*

Better.co.uk is a fee-free mortgage broker

5-star Trustpilot rating from over 5,000 reviews

Compare mortgage deals from over 100 lenders

Skip the paperwork: apply online any time
Important info & marketing claims
You may have to pay an early repayment charge to your existing lender if you remortgage. Your savings will depend on personal circumstances.
Your home may be repossessed if you do not keep up repayments on your mortgage.
*The savings figure of £420 is based on Better.co.uk remortgage customers in October 2023. Read more on our marketing claims page.
We can't always guarantee we will be able to help you with your mortgage application depending on your credit history and circumstances.
Average mortgage decision and approval times are based on Better.co.uk's historic data for lenders we submit applications to.
Tracker rates are identified after comparing over 12,000 mortgage products from over 100 mortgage lenders.
As of January 2023, Better.co.uk has access to over 100 lenders. This number is subject to change.
For buy-to-let landlords, there's no guarantee that it will be possible to arrange continuous letting of a property, nor that rental income will be sufficient to meet the cost of the mortgage.