Mortgage Comparison
Easily find and compare the most up-to-date mortgage rates and offers using our comprehensive, free mortgage comparison tool which covers the entire market.
Find a mortgage that suits you
Tell us what you're looking for and we'll search 12,000 deals from 90 lenders.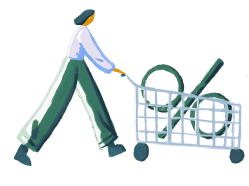 How to compare mortgage deals
Comparing mortgage deals can be an effective way to find the right mortgage for you.
There are a variety of different aspects to consider when choosing a mortgage. Here are some aspects to consider when you compare mortgage deals:
Our comparison tool works by searching through 12,000 deals from 100 lenders.
Using our comparison tool is a great first step to seeing what the market has to offer, but if you want a clearer view, along with some expert advice, sign up and speak to one of our advisers.
You can also arrange a quick, free call back and speak to an adviser over the phone.
Mortgage interest rates will affect how much you pay toward your mortgage each month. So the higher the interest rate, the more you'll pay every month.
An interest rate is a percentage you pay on top of your capital mortgage payments each month until you finish paying your mortgage. 
Think of it as a cost for borrowing money. This is how lenders make money back from lending.
There are different types of interest-rate mortgages:
Your first consideration when contemplating a mortgage is your budget. You'll need to assess your current financial situation including your income, expenses, existing debts, available deposit and credit score. 
Consider your income and outgoings and determine the maximum monthly repayment you could afford to make without it putting a strain on your finances. Afterwards, use our mortgage calculator to get an idea of how much you could comfortably afford to borrow. 
Don't forget to budget for other costs associated with buying a house, such as Stamp Duty, conveyancing fees, and the cost of hiring professional removal services. You also need to consider how your regular monthly outgoings might change when you move to a new location. If you're moving to a larger house for example you may need to spend more on council tax, home insurance and utility bills.
Do your research to grasp the different types of mortgages available to you, including fixed-rate, variable-rate, and interest-only mortgages. Each product has its own unique features and benefits, and the right option for you will depend on your individual financial circumstances. 
If you're seeking the assurance of knowing exactly what your mortgage repayment will be each month, then a fixed-rate mortgage could be the right choice for you. 
If your goal is to pay off your mortgage as soon as possible and you'd like the option to make overpayments then a variable-rate mortgage without early repayment charges could be a more suitable option.
All mortgages incur a fee known as interest which is the cost of borrowing. Interest rates can significantly impact both your monthly repayments and the total cost of your mortgage. 
Comparing interest rates from various lenders for the same type of mortgage is crucial but keep in mind that the lowest rate might not always translate to the most cost-effective option when other variables are taken into account.
This is because mortgages often come with additional fees, such as arrangement fees, valuation fees, legal fees, and early repayment charges, which can significantly impact the total cost of your mortgage. 
A lender advertising the lowest interest rate might come with higher fees, resulting in a mortgage that's more expensive compared to other lenders featuring slightly higher interest rates but lower additional charges. 
The Annual Percentage Charge (APRC) offers a more accurate representation of the total cost of borrowing, by including both the interest rate and any fees charged by the lender. Compare APRCs to understand the overall cost of each mortgage deal.  
It's worth noting that APRCs won't include fees for any late or early repayments you make.
Our mortgage comparison tool will show you the initial period cost, which is how much you'll pay in total over your initial mortgage period. 
Remember, your mortgage term can also impact the cost of your mortgage. A shorter term will typically result in higher monthly payments but lower overall costs. A longer term leads to lower monthly payments but potentially higher overall costs.
If you're planning to make overpayments on your mortgage, it could be beneficial to look for a deal that allows early repayments without penalties. 
Typically, it's only mortgages that have an initial period of fixed or discounted interest rates that have early repayment charges. Standard variable rate and tracker mortgages often come without early repayment charges.
Using our online mortgage comparison tables, you can explore various options available to you. Just input details about your property's value, how much you want to borrow, mortgage type and preferred term. This allows you to compare mortgage rates and fees, helping you to find the right solution for you.
Choosing a new mortgage deal is an important decision. Take your time to assess all the options and consider seeking advice from experts like ours. 
After considering all the factors, choose the mortgage deal that aligns with your financial goals, preferences, and long-term plans.
How do I get the most favourable mortgage rates?
Mortgage rates are constantly fluctuating, typically influenced by current market conditions. However, there are some actions you can take to make sure you get the most favourable rates available. Here are a few steps to consider: 
Lenders use your credit score to determine your risk as a borrower. Having a good credit history typically results in better interest rates. If you've got a poor credit history, take steps to help boost your credit score. Be sure to pay your bills on time, pay down existing debts, ensure there are no errors on your credit report and make sure you're registered to vote.
Having a larger deposit will reduce your loan-to-value (LTV). Lower LTVs pose less risk to lenders, so having a reasonable deposit will often open up access to better mortgage rates.
Compare the interest rates, fees, and terms on offer from different lenders to find the right option for you.
Mortgage brokers like us have access to a wide range of lenders and can help you find the most favourable rates and terms based on your circumstances.
Shorter loan terms, such as 15 or 20 years, often come with lower interest rates. Whilst monthly payments are higher, you'll pay less in total interest over the full loan term.
Lenders use your credit score to determine your risk as a borrower. Having a good credit history typically results in better interest rates. If you've got a poor credit history, take steps to help boost your credit score. Be sure to pay your bills on time, pay down existing debts, ensure there are no errors on your credit report and make sure you're registered to vote.
Why should I compare mortgages?
Comparing mortgages is an important step when considering buying a home and can offer significant advantages that can help you save money, make informed decisions, and secure a mortgage that aligns with your financial goals. 
Different lenders will offer varying interest rates. By comparing mortgage options, you can identify lenders offering lower rates, reducing the interest you'll pay. 
Lenders will also have differing fees, some lenders will charge fees that others won't, and mortgage providers will have higher fees than others. When you compare mortgage lenders, you'll be able to find the lowest fees on offer. 
Remember to compare the total costs of potential mortgages using the APRC to find the right combination of interest rates and fees for you.
Comparing mortgages with different terms and fees can help you find a mortgage with the lowest total cost but also with a monthly repayment that you can comfortably afford. 
Whilst longer mortgage terms can increase the total cost of your mortgage, they can make monthly payments more affordable, so you'll need to weigh up the benefits of lower monthly payments against higher overall costs to find the right balance for you.
Comparing mortgages helps you get an understanding of the mortgage market and allows you to keep an eye on market trends. Knowing when mortgage rates are lower than they previously were can help you apply at the right time to secure a good mortgage rate.
When you compare mortgage deals, you reduce the risk of overpaying. If you apply for a mortgage without comparing the lender's interest rates and fees with others on the market, you could end up paying more than you need to.
Mortgage providers will frequently charge fees beyond the monthly interest. Our comparison tool displays the complete cost over the initial period, enabling you to directly assess all expenses linked to a mortgage offer.
In summary, comparing mortgages empowers you to make an informed decision, save money, and choose a mortgage that aligns with your financial and homeownership goals.
Our expert says...
"Comparing mortgage rates allows you to make an informed decision when looking for a new mortgage deal. It's important to compare not only the interest rate but also the associated fees, any early repayment charges and total initial period costs of any mortgage you're considering.

The mortgage market is diverse and offers a wide variety of options; the right mortgage for you will depend on your circumstances and financial situation. Our expert mortgage brokers can help walk you through your options and find the right mortgage deal for your needs."

Amanda Aumonier - Head of Mortgage Operations
Mortgage comparison FAQs
There isn't a specific credit score requirement to qualify for a mortgage, because lenders use a variety of different factors to assess your eligibility. Your credit score is just one important factor - lenders will also consider things like your income, employment history, debt-to-income ratio, as well as the size of your deposit. 
Having a higher credit score will generally improve your chances of obtaining a mortgage and having a good credit score can make you more attractive to lenders and potentially allow you to access lower interest rates.
Different lenders have varying criteria, and each mortgage provider may have their own minimum credit score requirement. A mortgage application involves a comprehensive assessment of your financial situation, so it's a good idea to work on maintaining a healthy credit score before applying for a mortgage. 
You can switch mortgage lenders through a process called remortgaging. Remortgaging involves finding a new mortgage lender who will pay off your existing mortgage. You'll then start making repayments to the new lender. 
Most people choose to remortgage when their fixed-rate or discounted mortgage deal ends in order to avoid moving to their current lender's standard-variable rate tariff. Some homeowners will also choose to remortgage to borrow more money, typically to consolidate other debts or fund home improvements. 
The process of remortgaging closely resembles the application process for your initial mortgage. Our comparison tool enables you to compare remortgage options from multiple lenders, helping you to find a suitable remortgage deal.
Remember, if you're within a fixed interest period, opting for a remortgage might incur early repayment charges. Hence, it's crucial to weigh up the advantages and disadvantages before making a decision to switch mortgage lenders.
The interest rate and APRC (Annual Percentage Rate of Charge) are important figures when comparing mortgages. 
Interest rates:
The interest rate is a percentage of the mortgage, which is the amount that a lender charges for borrowing. It determines your monthly mortgage payment and, most of the time is expressed as an annual percentage. 
APRC:
APRC gives a more comprehensive view of the cost of borrowing, which includes not only the interest rate but also any other standard fees associated with the mortgage. 
APRCs allow you to compare the full cost of a mortgage rather than just the cost of the interest. APRCs are also expressed as a percentage of the amount you want to borrow.
Whether you should get a repayment or interest-only mortgage will depend on your circumstances and personal preferences. 
Most residential mortgages are repayment mortgages, which are when your monthly repayments go towards paying the interest and repaying a portion of the amount you borrowed. By the end of the mortgage term, you will have completely repaid the mortgage.
With interest-only mortgages, your monthly repayments are typically lower but only go towards paying the interest, and at the end of the mortgage term, you'll still owe the amount you borrowed. Interest-only mortgages are typically used to purchase investment properties.
LTV stands for Loan-to-value and represents the ratio between the value of your property versus how much you borrow. For example, If your home is worth £500,000 and you have a mortgage of £350,000, you'd have an LTV of 70%. 
Lenders often use the LTV ratio to assess the risk associated with a mortgage. Generally, a lower LTV ratio (closer to 0%) indicates that the borrower has a larger equity stake in the property, which is considered less risky for the lender. On the other hand, a higher LTV ratio (closer to 100%) suggests a smaller equity stake, which could pose more risk.
LTV ratios also impact factors like mortgage interest rates. Use our LTV calculator to see your loan-to-value.
Get a mortgage with Better.co.uk today
Our remortgage customers saved an average of £290 a month in August 2023*

Better.co.uk is a fee-free mortgage broker

5-star Trustpilot rating from over 5,000 reviews

Compare mortgage deals from over 100 lenders

Skip the paperwork: apply online any time
What people are saying about Better.co.uk...
Important info & marketing claims
You may have to pay an early repayment charge to your existing lender if you remortgage. Your savings will depend on personal circumstances.
Your home may be repossessed if you do not keep up repayments on your mortgage.
*The savings figure of £420 is based on Better.co.uk remortgage customers in October 2023. Read more on our marketing claims page.
We can't always guarantee we will be able to help you with your mortgage application depending on your credit history and circumstances.
Average mortgage decision and approval times are based on Better.co.uk's historic data for lenders we submit applications to.
Tracker rates are identified after comparing over 12,000 mortgage products from over 100 mortgage lenders.
As of January 2023, Better.co.uk has access to over 100 lenders. This number is subject to change.
For buy-to-let landlords, there's no guarantee that it will be possible to arrange continuous letting of a property, nor that rental income will be sufficient to meet the cost of the mortgage.