2-year fixed mortgages
A 2-year fixed-rate mortgage offers short-term peace of mind and means you're not tied down for a long time. Here's everything you need to know about 2-year fixed mortgages.
Compare our best 2 year fixed mortgage deals
Working out if a 2-year fixed-rate mortgage is right for you can be tricky. Compare 2-year fixed mortgage rates or speak to our expert mortgage brokers to talk through your options.
Find a mortgage that suits you
Tell us what you're looking for and we'll search 12,000 deals from 90 lenders.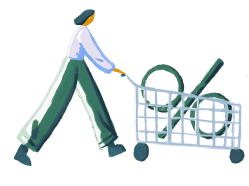 What is a 2-year fixed-rate mortgage?
A 2-year fixed-rate mortgage is a home loan with an interest rate that is guaranteed to stay the same for two years. It is generally the shortest fixed-term mortgage available and means your repayments won't change for 24 months.
This means you're protected against any market fluctuations or changes to the Bank of England base rate during your two-year term. This makes budgeting easier and gives you the peace of mind of knowing your payments won't suddenly shoot up.
A 2-year fixed mortgage can give you short-term security but also offers the flexibility to get a better deal if rates have gone down after two years.
Should I get a 2-year fixed mortgage?
Two-year fixed-rate mortgages are a popular option for many homebuyers. When working out whether they are the right option for you, there are several factors to consider. 
The first thing to think about is what interest rates could look like in two years. It's impossible to predict exactly what will happen, but if you think rates will go down, a 2-year fixed rate means you could switch to a cheaper deal.  
On the other hand, if you prefer to protect yourself against market fluctuations, a longer fixed term could offer more security.   
Here's a breakdown of the pros and cons of 2-year fixed mortgages to help you work out if they are the right option for you:
you'll always know exactly what you need to pay every month for the 2-year fixed term

your payments will not increase if interest rates go up during your fixed period

a 2-year fix is a good option if you plan to move house or remortgage in 2 years

2-year fixes are usually cheaper than longer fixed mortgages
you will not benefit from interest rate cuts during your fixed period

fixed rate deals can often have early repayment charges (ERCs)

you could end up paying more over the fixed period than if you chose a variable rate mortgage and if interest rates are low

2 years is still a relatively short term, so if you opt to remortgage after the 2 years, you may have to pay more fees
What happens when my 2-year mortgage ends?
At the end of your 2-year fixed-rate mortgage deal, your lender will move you onto their standard variable rate (SVR). Your lender sets this rate, which is usually much higher than most other fixed or variable rate deals.
SVR mortgages can change the rate of interest they charge at any time, usually in response to the Bank of England base rate. There are no restrictions, so you can move to a new deal anytime without paying exit fees. 
As SVR mortgages are expensive, it's a good idea to switch to a new deal as soon as you can when your fixed rate ends. To do this, you'll either need to remortgage with a new mortgage provider or move to a new deal with your current lender, known as a product transfer. 
Should you remortgage or product transfer?
Most lenders will send you details of the existing customer deals you can switch to several months before your fixed rate term ends. You can then arrange a product transfer, which means you will automatically move on to a new deal when your fixed term ends.
It's also worth comparing mortgages from other lenders to make sure you find the right deal. This would mean remortgaging, but you won't pay any exit fees once your fixed term has ended. 
Don't forget that interest rates are always changing, and it might not be possible to get a lower, or even the same, rate when it comes to finding a new deal. That's why it's worth searching the whole market for the best 2-year fixed-rate mortgage for you.
What are the alternatives to a 2-year fixed-rate mortgage?
If you're not sure a 2-year mortgage is right for you, there are a range of other fixed terms you could consider. The most common fixed-rate deals include:
3-year fixed-rate mortgages
Other fixed terms might be available, with some lenders offering 1-year deals or rates fixed for the whole length of your mortgage. Alternatively, if you don't want to fix your interest rate, you could look at a variable-rate mortgage.
There are several types of variable-rate mortgages, but the most common options are: 
Discount mortgages, where the rate is a set amount below the lender's SVR, e.g. if the SVR is 6% and the discount is 1% below, your rate would be 5% 

Tracker mortgages, where the rate tracks the Bank of England base rate plus a certain percentage, e.g. if the base rate is 5% and the tracker adds 0.5%, your rate would be 5.5% 
With variable-rate mortgages, your monthly repayments can change regularly and be higher or lower than fixed-rate deals at any given time.
Our expert says...
"2-year fixed rate mortgage deals are a flexible option if you don't want to be tied down for too long. They mean you don't have to wait too long before switching deals, but you won't get the security of longer-term fixed rates.
They can come with lower interest rates, but not always, so be sure to compare deals. Talk to one of our expert mortgage brokers today to discuss 2-year mortgages and to help you find the right deal."
- Jon Bone \ CeMAP-qualified mortgage adviser
Should you get a 5 year fixed rate?
We break down the pros and cons in our guide
Is a 10 year fixed rate a good idea?
Find out who could benefit from a 10 year fix in this guide
Discover more about remortgaging
Everything you need to know in our remortgage guide
What people are saying about Better.co.uk...
Get a mortgage with Better.co.uk today
Our remortgage customers saved an average of £290 a month in August 2023*

Better.co.uk is a fee-free mortgage broker

5-star Trustpilot rating from over 5,000 reviews

Compare mortgage deals from over 100 lenders

Skip the paperwork: apply online any time
Important info & marketing claims
You may have to pay an early repayment charge to your existing lender if you remortgage. Your savings will depend on personal circumstances.
Your home may be repossessed if you do not keep up repayments on your mortgage.
*The savings figure of £420 is based on Better.co.uk remortgage customers in October 2023. Read more on our marketing claims page.
We can't always guarantee we will be able to help you with your mortgage application depending on your credit history and circumstances.
Average mortgage decision and approval times are based on Better.co.uk's historic data for lenders we submit applications to.
Tracker rates are identified after comparing over 12,000 mortgage products from over 100 mortgage lenders.
As of January 2023, Better.co.uk has access to over 100 lenders. This number is subject to change.
For buy-to-let landlords, there's no guarantee that it will be possible to arrange continuous letting of a property, nor that rental income will be sufficient to meet the cost of the mortgage.