100% mortgages
A 100% LTV mortgage can be useful when you can't afford a deposit. But it's not always the right option. Find out what a 100% mortgage is and learn how it works.
What is a 100% mortgage
A 100% mortgage is a way of borrowing the money you need to buy a home without paying a deposit. They are typically aimed at first-time buyers who do not have a substantial deposit to purchase a property.
A deposit is the money you pay towards your home before your mortgage starts. Most lenders ask for a deposit that's at least 5% of the purchase price, but a small number offer 100% mortgages, which can be useful if you are not able to save enough money towards a deposit.
Skipton's new no-deposit mortgage
In May 2023, Skipton Building Society announced plans to offer a new 100% LTV mortgage targeted at renters who would otherwise struggle to get onto the property ladder without a deposit or family help.
Unlike similar products currently on the market, this new zero-deposit mortgage will not require a guarantor. Instead, borrowers will need to demonstrate at least 12 months' worth of on-time rental payments and a healthy credit history.
To be considered for Skipton's new no-deposit mortgage, you should:
be a first-time buyer

have 12 months' worth of rental history (all applicants)

have a good credit history

be aged over 21
Although this no-deposit mortgage could be the ideal way for renters to get onto the property ladder, it should be noted that the interest rate attached is likely to be more expensive.
Skipton's new 100% LTV mortgage for renters comes with an interest rate of 5.49%, compared to the average of 5% for other 5-year fixed-rate mortgages.
Compare our best 100% LTV mortgage deals
Compare 12,000 deals from over 100 lenders and one of our advisers can check whether you're eligible for the 100% mortgage deals you find.
Your home may be repossessed if you do not keep up repayments on your mortgage.
Find a mortgage that suits you
Tell us what you're looking for and we'll search 12,000 deals from 90 lenders.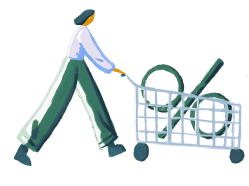 How 100% LTV mortgages work
The availability of 100% LTV mortgages has decreased significantly in recent years. Here's a general overview of how they work.
Higher Interest Rates: A 100% LTV mortgage poses a higher risk for the lender, so you can expect to pay higher interest rates compared to mortgages with a lower LTV. 
The specific interest rate will depend on various factors, including your credit history and the lender's policies.
Mortgage Repayments: Once you are approved for a 100% LTV mortgage, you'll start making regular monthly mortgage repayments based on the agreed-upon terms. These payments will generally include both capital and interest and are spread over a specific term, usually ranging from 25 to 35 years.
Risks and Considerations: Similar to other 100% LTV mortgages, there are risks associated with this type of loan in the UK. These include a potential lack of equity in the property, higher borrowing costs, and the impact of property value fluctuations.
Can I get a 100% mortgage
The availability of 100% LTV mortgages is limited, but you may be able to get a 100% LTV mortgage if you qualify based on a number of factors.
To qualify for a 100% LTV mortgage, you'll need to meet the lender's eligibility criteria and demonstrate your ability to repay the loan. 
As you will be borrowing the entire cost of a property, lenders will especially pay attention to and assess your credit history, income, employment status, and other factors to determine if you're a suitable borrower.
Lenders will thoroughly assess your affordability to ensure you can comfortably make the mortgage payments. They will consider your income, expenses, and other financial obligations to determine the loan amount you can borrow.
Guarantors
In many cases, lenders may require a guarantor for a 100% LTV mortgage. A guarantor is usually a family member who agrees to be responsible for the mortgage repayments if the borrower fails to meet them. 
Alternatively, the lender may ask for additional security, such as a charge on a guarantor's property.
Should I get a 100% mortgage?
Besides being confident that a lender will approve you for a 100% mortgage loan, you should also carefully consider both the benefits and drawbacks before committing to a 100% LTV mortgage. 
Quicker way onto the property ladder: A 100% LTV mortgage can get you onto the property ladder quicker as you won't have to worry about saving for a deposit.
Ideal if you have been renting for years: People who have been renting for many years unable to save money towards a house deposit could use this type of mortgage to finance their own home.
Negative equity: If your home's value drops, you may end up with negative equity. This would mean that what you owe for your mortgage is more than the value of your property and will make it harder for you to sell or remortgage in the future.
Risk for the lender and high interest: When a lender allows you to borrow 100% of the cost of a property they are putting themselves at a greater risk if you default on your mortgage payments. To cover this risk they will charge higher interest, making your monthly payments more expensive.
A 100% LTV mortgage may not be your only or best option. It's worth considering what other avenues you could take to get onto the property ladder.
Save for a small deposit and get a lower LTV mortgage: Even saving as little as a 5% deposit will give you greater choice when it comes to mortgage deals. The more equity you have in your property the less chance there is you will fall into negative equity.
Government schemes: You might consider a government or homeownership scheme instead. 
Schemes on offer include:
Lifetime ISA

Shared ownership

Right to Buy or Right to Acquire
Gifted deposits and help from family: For many first-time buyers, it may not be possible to get help from parents or family members towards a deposit. But, if this is an option for you, it may be one worth considering.
Introducing HomeNow: a 5 year deposit builder designed for renters
HomeNow gives a real boost to renter's ability to get on the housing ladder. HomeNow purchase houses for people who don't have enough money for a typical mortgage deposit. The ideal home is bought and held on their behalf in their HomeNow fund.
The person rents the property from the fund and, after five years, benefits from a third of the increase in value of the property (received via a rent refund). This will contribute towards a deposit, either to purchase the property they have been living in or any other property they wish to move to.
Get a mortgage with Better.co.uk today
Our remortgage customers saved an average of £290 a month in August 2023*

Better.co.uk is a fee-free mortgage broker

5-star Trustpilot rating from over 5,000 reviews

Compare mortgage deals from over 100 lenders

Skip the paperwork: apply online any time
What people are saying about Better.co.uk...
Important info & marketing claims
You may have to pay an early repayment charge to your existing lender if you remortgage. Your savings will depend on personal circumstances.
Your home may be repossessed if you do not keep up repayments on your mortgage.
*The savings figure of £424 is based on Better.co.uk remortgage customers in November 2023. Read more on our marketing claims page.
We can't always guarantee we will be able to help you with your mortgage application depending on your credit history and circumstances.
Average mortgage decision and approval times are based on Better.co.uk's historic data for lenders we submit applications to.
Tracker rates are identified after comparing over 12,000 mortgage products from over 100 mortgage lenders.
As of January 2023, Better.co.uk has access to over 100 lenders. This number is subject to change.
For buy-to-let landlords, there's no guarantee that it will be possible to arrange continuous letting of a property, nor that rental income will be sufficient to meet the cost of the mortgage.