70% LTV mortgages
Compare 70% LTV mortgages and learn more about buying a house with a 30% deposit to find the right deal for you.
Compare our best 70% LTV mortgage deals
70% mortgages are attractive if you can afford a 30% deposit, as it can mean accessing lower interest rates and better deals.
Find a mortgage that suits you
Tell us what you're looking for and we'll search 12,000 deals from 90 lenders.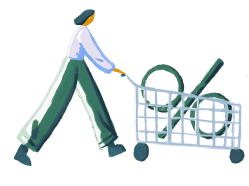 What is a 70% LTV mortgage?
LTV (Loan-to-Value) is a ratio showing what you borrow as a mortgage against how much you need to put down as a deposit.
A 70% loan-to-value mortgage means you borrow 70% of the property's purchase price, and the remaining 30% must come from your own funds as a deposit. 
For example, if you're buying a property for £300,000 with a 70% LTV mortgage deal, you will borrow £210,000 and need a deposit of £90,000.
The LTV of your mortgage influences the interest rates and eligibility criteria set by the lender. The lower your LTV, the lower the rates you will be offered because you are considered less risky by mortgage lenders.
How do 70% LTV mortgages work?
70% mortgages work by allowing you to borrow 70% of a property's purchase price. In every other way, they work the same as other mortgages.
The loan is secured against the property you buy, meaning that your home is at risk if you fail to make repayments. By contributing a deposit to cover the rest of the purchase price, you will own 30% of your property outright. 
70% mortgages come with interest charges, but they are usually lower than higher LTV home loans. Your repayments will cover the interest you're charged and pay off a small amount of the mortgage balance each month. 
By the end of your mortgage term, you will have cleared your outstanding debt and have nothing left to pay, meaning you'll own 100% of your home.
Is 70% a good LTV?
If you have a deposit worth 30% of the property you want to buy, a 70% LTV mortgage could be a good option. 
70% mortgages come with lower interest rates than higher LTV deals like 80% LTV or 90% LTV mortgages. 
An LTV at 70% is considered low, but it is possible to access even lower rates if you can save up a larger deposit. Mortgages at 65% LTV  or 60% LTV can offer some of the lowest rates on the market.
The pros of 70% LTV mortgages
Low interest rates: You might be able to access cheaper deals compared to higher LTV mortgages, like 90% or 80% LTV

Less interest: By putting down a 30% deposit, you'll pay less interest over the term of your mortgage than if you put down a smaller amount

More choice: 70% LTV mortgage deals are attractive to lenders, so most offer them - that means you have lots of choice across the whole mortgage market
The cons of 70% LTV mortgage
Large deposit: It can be hard to save up a 30% deposit, and could mean waiting longer to get on the property ladder compared to contributing a 10% or 20% deposit

Access to funds: If you put all your money into a 30% deposit, you won't be able to access it if you need to - it could be worth opting for a higher LTV mortgage and keeping some savings in an emergency fund

Higher rates: Although a 70% mortgage will offer relatively low rates, you could get even better deals by saving a 35% or 40% deposit
Before you decide to go for a 70% LTV mortgage, make sure you're not leaving yourself short by paying a 30% deposit.
Buying a house comes with many extra costs you might have yet to consider, including solicitors fees, surveys, stamp duty and moving expenses. 
These costs can easily run into the thousands, so make sure you have enough to cover them and your 30% deposit before applying for a 70% LTV mortgage.
Am I eligible for a 70% LTV mortgage?
If you can save a 30% deposit, there is a good chance you will qualify for a 70% LTV mortgage, but you will need to pass the lender's eligibility criteria.
Each lender will have their own criteria you will need to meet, but most will look at:
Your credit history: Every lender will assess your credit history by performing a hard credit check during the application process. You will usually need a good score to be accepted, but some lenders will lend to you if you have a low score, but they may offer a higher interest rate. 

Your affordability: The lender needs to be confident you can afford to repay your mortgage. To do this, they'll look at your incomings and outgoings and stress test these to ensure you can pay even if interest rates go up.

Your employment status: Lenders want to see that you have a stable income through secure employment or by assessing your accounts if you're self-employed.

Your deposit: You can only get a 70% LTV mortgage if you have enough saved to contribute a 30% deposit.
A large deposit, like 30%, can make it easier to be accepted for a mortgage because of the decreased risk to the lender. 
By only borrowing 70%, the risk of falling into negative equity (where the amount you owe is more than the value of your property) is reduced, so mortgage providers will be more willing to lend to you.
Our expert says...
"If you have a big enough deposit, getting a 70% LTV mortgage is a great way to get a good deal with some of the lowest interest rates available. 
However, you should only put down a 30% deposit if you have the money to cover your costs and leave some in an emergency fund. To find the right 70% mortgage deal for you, speak to one of our expert advisors today".
70% LTV mortgage FAQs
Getting a 70% LTV mortgage as a first-time buyer is possible. However, saving up a deposit worth 30% can be difficult, especially as a first-time buyer when you don't have equity in an existing property. 
Having a large deposit can make getting accepted for a mortgage easier, but remember that lenders will also look at your credit history, affordability and employment status when deciding to lend you money.
Interest-only mortgages are available at 70% LTV; most lenders don't offer interest-only deals above 75% LTV.
There are two main types of 70% mortgages you can get: repayment and interest-only. Repayment mortgages are the most common, where you pay interest and a small part of the loan each month. Interest-only mortgages are where you only pay the interest off monthly, and you need to pay back the initial loan in full at the end. Interest-only mortgages usually have lower monthly repayments, but you will end up paying more over the term.
Interest-only mortgages are less common than they once were because they are considered risky by lenders. If you want a mortgage on an interest-only basis, you need to show you have a plan in place to pay off the balance at the end of your mortgage.
If you're self-employed, you should be able to get a 70% mortgage as long as you meet the lender's eligibility requirements and have a 30% deposit. 
When you apply for a self-employed mortgage, you will have to provide details of your accounts and income over a period of time. Remember that lending criteria differ among lenders, with some being more receptive to self-employed individuals than others. 
Our mortgage brokers can help you identify a lender more likely to approve your application based on your specific employment situation.
There are advantages to having a low LTV, but it might not be the best option for everybody. Some of the pros to having a low LTV include:
Lower interest rates

Paying less interest overall

Less chance of falling into negative equity

Potential to pay off your mortgage faster

Can make it easier to get accepted
However, you could get on the property ladder quicker if you save a smaller deposit and get a mortgage with a higher LTV. With the rising cost of renting, buying sooner with a smaller deposit could save you money in the long run, even if you pay more interest on your mortgage.
Opting for a higher LTV mortgage also means you could more easily hold some money back in savings that you need fast access to in an emergency. If you put all your money into your property purchase, it will be tied up until the end of your mortgage.
Get a mortgage with Better.co.uk today
Our remortgage customers saved an average of £290 a month in August 2023*

Better.co.uk is a fee-free mortgage broker

5-star Trustpilot rating from over 5,000 reviews

Compare mortgage deals from over 100 lenders

Skip the paperwork: apply online any time
What people are saying about Better.co.uk...
Important info & marketing claims
You may have to pay an early repayment charge to your existing lender if you remortgage. Your savings will depend on personal circumstances.
Your home may be repossessed if you do not keep up repayments on your mortgage.
*The savings figure of £420 is based on Better.co.uk remortgage customers in October 2023. Read more on our marketing claims page.
We can't always guarantee we will be able to help you with your mortgage application depending on your credit history and circumstances.
Average mortgage decision and approval times are based on Better.co.uk's historic data for lenders we submit applications to.
Tracker rates are identified after comparing over 12,000 mortgage products from over 100 mortgage lenders.
As of January 2023, Better.co.uk has access to over 100 lenders. This number is subject to change.
For buy-to-let landlords, there's no guarantee that it will be possible to arrange continuous letting of a property, nor that rental income will be sufficient to meet the cost of the mortgage.