75% LTV mortgages
Compare 75% LTV mortgages to find the right deal for you or learn more about buying a house with a 25% deposit.
75% mortgages are a viable option for most home buyers. A 25% deposit can open up more mortgage options and better interest rates.
What is a 75% LTV mortgage
LTV, which stands for Loan-to-Value, shows the percentage of your mortgage compared to your property's value. When purchasing a home, your deposit covers the gap between your borrowed amount and the property price.
The LTV of your mortgage can impact the interest rates and eligibility requirements set by the lender. A 75% LTV mortgage allows you to borrow 75% of the property's purchase price, meaning you'll need a 25% deposit. 
To illustrate, if you're buying a property for £350,000 with a 75% LTV mortgage of £262,500, you'd need a deposit of £87,500.
Compare our best 75% LTV mortgage deals
Compare 12,000 deals from over 100 lenders and one of our advisers can check whether you're eligible for the 25% deposit mortgage deals you find.
Find a mortgage that suits you
Tell us what you're looking for and we'll search 12,000 deals from 90 lenders.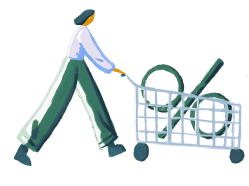 How do 75% LTV mortgages work?
75% LTV mortgages work in the same way as other mortgage products. They allow you to borrow money to purchase a property; the loan is secured against the property you buy, meaning that your home is at risk if you fail to make repayments. 
Similar to any borrowing, 75% mortgages come with interest charges, which is the cost of borrowing. Initially, a larger share of your monthly repayments is allocated to paying interest, while a smaller part contributes to paying back what you've borrowed. Over time, as you reduce the amount you owe, a smaller portion of your monthly repayments will be directed towards paying the interest.
Interest only 75% LTV mortgages?
There are two types of 75% mortgages: repayment and interest-only. Repayment mortgages are more common; each month, you pay interest and reduce the loan. Interest-only mortgages involve paying only the interest off monthly, and the total amount you initially borrowed remains at the end. Interest-only mortgages usually have lower monthly repayments and are typically only used for buy-to-let properties.
Different types of 75% LTV mortgages will affect your monthly repayment and how your interest will be charged.
Fixed-rate mortgages offer a fixed interest rate for a specified period, typically between two and five years. Having a fixed interest rate will mean that your monthly repayments will stay the same every month throughout the initial period.
Tracker mortgages are typically linked to the Bank of England base rate, so when the base rate changes, so will the amount you pay in interest. Tracker mortgages are usually offered as a base rate plus a certain percentage. For example, base rate plus 2%, so if the base rate were 4%, you'd have a mortgage interest rate of 6%.
Also known as discount mortgages, your interest rate would be a discount on the lender's standard variable rate. Like fixed-rate mortgages, the deal is offered for a certain period.
All lenders will have a standard variable rate (SVR), though most borrowers tend to avoid it. Variable-rate mortgages mean your interest rate can change at the lender's discretion. You'll move to your lender's SVR at the end of a fixed or discounted deal if you don't remortgage.
How do I get a 25% deposit mortgage?
When you apply for a 75% LTV mortgage, the process is similar to other mortgages. Here's a summary of what you can expect during the application process:
The first step when looking for a mortgage is to use a mortgage calculator to determine how much you can afford to borrow and get an idea of your monthly repayments.  
Don't forget to budget for any additional costs associated with buying a home and getting a mortgage, like stamp duty and conveyancing fees.
Before looking for your new home, you'll need to get a Mortgage in Principle. This document shows your estimated borrowing capacity, considering the information you provided and a soft credit check.
Having a Mortgage in Principle in place demonstrates your commitment and financial capability to both the estate agent and the seller, enhancing the credibility of your offer.
You can begin your property search once you've obtained a Mortgage in Principle. 
When you've found the right property, you can make your offer. Don't forget to ensure your deposit and mortgage can cover this amount and budget for solicitors fees and stamp duty.
After your offer has been accepted, it's time to apply for a 75% mortgage. Our team of expert mortgage brokers can assist you in finding the right deal and guide you through the application process.
Once you've received your mortgage and completed on your new home, you'll need to start making your repayments.
Our expert says...
"Putting down a 25% deposit when applying for a mortgage can be a smart move when you want to get onto the property ladder. 75% LTV mortgages often have more favourable interest rates and loan terms because lower Loan-to-Value ratios pose fewer risks to lenders. 

"If you're ready to apply for a 25% deposit mortgage, speak to one of our expert mortgage brokers today, who can help you find the right mortgage deal and guide you through the entire application process".

Jonathan Bone - Lead Mortgage Adviser
75% mortgage FAQs
Different lenders will have other eligibility criteria for their mortgages; however, most lenders will look at:
Your credit history -Every lender will assess your credit history by performing a hard credit check during the application process. Lenders have different criteria for credit scores; some demand good scores, while others consider lower scores. However, securing a mortgage with a weak credit history might lead to less favourable terms, such as higher interest rates.

Your affordability - When you apply for a mortgage, the lender will look at your income and outgoings to assess whether you can afford the repayments. They'll stress test this to ensure that you'll still be able to afford repayments even if interest rates rise in the future.

Your employment status - Lenders generally favour borrowers with steady employment or a reliable source of income. They'll consider factors like your job type and the duration of your current employment.
Your deposit - To get a 75% mortgage, you'll need a deposit covering 25% of the property value.
75% LTV buy-to-let mortgages are available from several lenders. Your ability to get a buy-to-let mortgage will depend on several factors, such as:
Potential rental income - Most lenders will require your rental income to be at least 125% of your monthly mortgage payment.

Affordability - Buy-to-let lenders will look at your income and outgoings. They'll want to ensure you can afford the mortgage repayments even if you don't have rental income.

Credit score - Most lenders require a good credit score to qualify for a buy-to-let mortgage.

Your age - You'll need to be at least 21 to get a buy-to-let mortgage, though some lenders will have a higher minimum age. Many lenders will also set an upper age limit for the end of the mortgage term.
Your existing properties - Sometimes, lenders will require you to own your own home outright or with a mortgage. They may also limit the amount of buy-to-let mortgage you have.
Yes, getting a 75% mortgage as a first-time buyer is possible. A 25% deposit could mean more favourable interest rates and mortgage terms. 
Remember, though, having a 25% deposit doesn't guarantee your eligibility, and lenders will also look at factors like your credit history, affordability and employment status when deciding to lend you money.
A 25% deposit mortgage is generally considered to be a reasonable deposit. However, what constitutes a "good" deposit can also depend on your financial circumstances, the current housing market conditions, and the eligibility criteria of lenders.
Yes, you'll potentially be able to get a 75% mortgage if you're self-employed, providing you meet the lender's eligibility requirements. You may need to provide extra documentation when you apply for a self-employed mortgage.
Remember that lending criteria differ among lenders, with some being more receptive to self-employed individuals than others. Our mortgage brokers can assist you in identifying a lender that is more likely to approve your application based on your specific circumstances.
Get a mortgage with Better.co.uk today
Our remortgage customers saved an average of £290 a month in August 2023*

Better.co.uk is a fee-free mortgage broker

5-star Trustpilot rating from over 5,000 reviews

Compare mortgage deals from over 100 lenders

Skip the paperwork: apply online any time
What people are saying about Better.co.uk...